I am Gakusei Katsumura, the owner of this website.
I am a student at a university in Kagawa prefecture.
I love bonsai.
I made this website with the aim to introduce you to the beautiful world of bonsais.
Let me write a little about the encounter of bonsai and myself –
and why I wanted to talk about bonsai.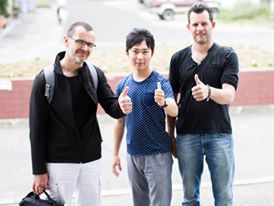 Two years ago, I met two travelers who came to Kagawa all the way from France.
I later found out that they had come to study about bonsai.
They stayed in Kagawa for nearly ten days.
Until then, Kagawa was only a place where I live.
However, getting to know that the city is recognized by French people through bonsai, I became interested in what kind of charm these bonsai have.
My first thought then was to visit a bonsai garden.
When I got there, there was a marvelous world I did not know of.
A world, in one small bonsai –
I fell in love at once.
On the other hand, I also learned the challenges of the bonsai industry –
which was the lack of distribution volume due to the aging of domestic bonsai lovers.
Overseas exports were also reliant on trading companies, and the craftsmen could not profit from the business.
This is a picture of a Shimpaku bonsai.
The garden owner of the bonsai garden which I always visit gave me this as a present.
I will not forget the warm feelings that grew inside me when I was handed this wonderful present.
I saw and understood the craftsman's way of working and beliefs the more I visited the gardens.
They were gentle, and were proud of their way of living.
All these beliefs and gentleness grew into the bonsai –
and was handed over to me.
Although the bonsai was very small, it felt heavy for me, full of the craftsman's love and belief.
I would like to convey the heart of such bonsai.
This is why I will convey these messages.
I will conduct tours because I really would like you to meet these amazing craftsmen in person.
I also want sell these beautiful bonsais and export them with my heart.
I'm would be happy if I can contribute to Kagawa bonsai, even a little.
Facebook → https://www.facebook.com/yshengcun